The online poker academy of PokerStrategy consists of several teachers / coaches from various communities, Poker Strategy is comprised of 19 communities: German, Bulgarian, Czech, Spanish, English, French, Indian, Italian, Chinese, Japanese, Korean, Hungarian, Dutch, Polish, Portuguese, Romanian, Russian, Finnish and Swedish.
Pokerstrategy Status
All the articles, videos and trainings to which you will have access to are dependent on your status which is defined according by the following table:

Figure I: PokerStrategy Status requirements
Pokerstrategy Articles
Before starting classes / training first you shoul read all the strategy articles available, like the manuals available for classes, you have a total of 376 divided by 11 categories (Fixed-Limit ; No-Limit Short & Mid Stack Strategy; No-Limit Big Stack Strategy; SNG: Sit and Go Tournaments; MTT: Multi-Table Tournaments ; Psychology & Didactics; Omaha ; 7-Card Stud Hi/Lo; Live Poker; Others and Popularise poker), you also have Columns and Quizzes available.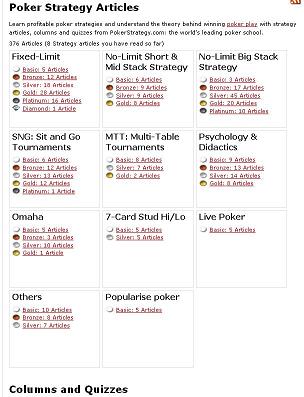 Figure II : PokerStrategy Article List
After reading the basic level articles (you'll have access to the different articles as you advance in your status) you will be quite prepared to ask your starting capital to play poker online, at the moment you have four options with the $ 10 free for: PKR Poker, Poker 770, Titan Poker and William Hill Poker, there are several guides here in our website explaining how to get the bankroll.
Lectures / Trainings Pokerstrategy
In each community there is a weekly calendar of classes / training sessions from Monday to Sunday, the classes to which you can watch will always depend on your status, so the lesson consist in watching a coach playing in real-time reporting and explaining his decisions, and obviously if it's a lesson you can expose your doubts that the coach will interact with his students during the class in order to share his knowledge.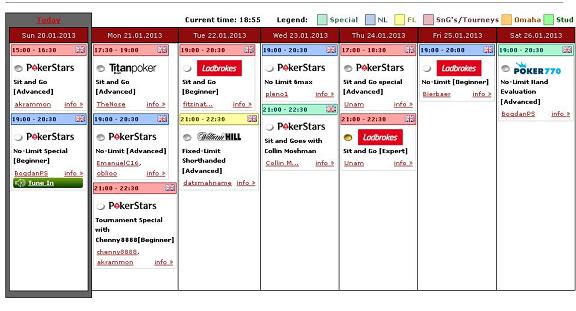 Figure III: Weekly Calendar of Classes / Trainings of PokerStrategy
Other Poker Academies
You may very well have this kind of classes in other academies such as Europe Poker Academy or Asia Poker Academy , but Poker Strategy is the only one that has a multilingual platform as well as daily classes from Monday to Sunday, not to mention operating in a much more simple and organized way, and in order to take classes in the other academies but you must have a very good knowledge of the English language.